A TOTAL CREEP!
This kid (haha) is odd enough that I felt an absolute need to write about him. First off, he ain't no kid, though he seems to do his best to pose like he is one in his pictures. He is 39, and his name is
SanguineNights
.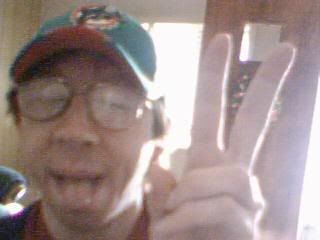 We shall assume he means "sanguine" as in bloody. So loosely translated his name is Bloody Nights. Perfect for Halloween!
Further adding to the guy's creep-factor is the fact that he is an organist and he wrote a blog to a married woman he is in love with, that he has never actually met.
I am thinking "Phantom of the Opera" here. . .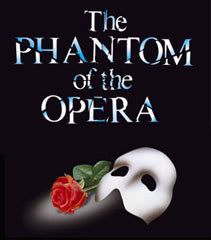 . . . like, the guy creeps into the church at night and croons about his lady love whilst pounding out his angst on the organ. Here is the poem he wrote for her:
"
With the sound of your voice, it makes my heart melt in two, and i am really looking forward to finally getting to meet you. I want you to be my friend and i know that our friendship will be right to the end. The days and nights go by and i all i want to do is cry. From the very first time we talked on the phone you sent my heart into space. and now i am earnestly waiting to finally meeting you face to face. I am looking for someone to love that is a gift sent from above. and i know that if we get together our love will be forever. This is what my heart longs for cause i do not want to be alone anymore. I have been single for a long time and i hope that one day you will be mine. I will shower you with love each and every day and i will always be there for you no matter what may come your way. But until you and i finally meet, I just want to tell you that you hold a special place in my heart and i pray that God will watch over us while you and i are apart!
"
Wait. Maybe this is more "Fear" than "Phantom of the Opera":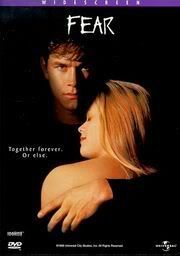 The other oddity is the juxtaposition of his age with his "youthfully themed" photos. I mean, would you really expect a 39 year old to have pictures like this?
"Oops!"
or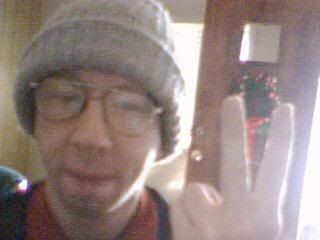 not to mention his blog about his travails keeping a job as a cashier at a grocery store. 39. cashier. grocery store. HARD???
"
Well to begin with, I had to work last night at the grocery store from 4:00pm until 9:00pm and I come into work and I somewhat had a good night until about 8:30pm cause I had to deal with a customer that was rude to me in more ways than one since i was the only cashier on at the time due to the fact that everybody else was on break or taking a half an hour lunch while on duty. This person who i do not know his name at all nor do i know where he was from came in with his friend and put his groceries on my belt and told me to step on it mark cause i am in a hurry. This person was really pissing me off but I did not say a word to him while i was cashing him out. I took care of his order and i told him how much he owed me for the bill. He used his ACCESS card to pay for it which i do get alot of customers who pay with that card. I then gave him his receipt and he told me that if i over charge him for anything he said that he was going to kick my ass. I then told him that i do not over charge anybody for anything. Well i try my best not too if i can help it. The guy and his friend left and I then counted to 10 to myself and I calmed down afterwards. I have dealt with rude customers but this person was the icing on the cake. I was just waiting for this person to start with me cause i was fucking pissed off in more ways than one but as a result i handled myself in a fashion that was not going to jeopardize my job cause i learned my lesson the first time when i got out of line with a customer which i was told that one more time that i am rude to a customer i would get fired so as a result i did not say a word to this person at all i kept my cool and i felt better from within me. So advice to you if you are dealing with assholes in your life, please conduct yourself in a manner that will not jeporadize you or your place of employment. Take my advice!! Think before you react not react and think. It works for me and it could work for you too!! Talk to you soon!!
"
This is one odd bird. He even blessed us with a blog about a love poem he received in Highschool, i.e. 20+ years ago:
"
I sit here by my window and I look at the clear blue sky. I think of a wonderful person, the guy who caught my eye. Yet we are different but our love will continue to grow, the two of us together are stronger than the both of us alone. When I am with you, my spirit will soar with each passing hour of the day. I will love you even more, What I am trying to say my love is that what we share together is what others are looking for so stay in my heart with me forever. (Sad to say. I tried writing to her last week, but my letter was returned from the Lubec post Office in Maine telling me that she is deceased for 10 years now and I am really taking it hard cause I did not know anything about it until my letter was returned back to me. Shelley died at the age of 26 or 27 because of cardio vascular disease ( her fingers were blue someone told me), There was no oxygen going through her blood. We were supposed to meet after High School but I stopped writing to her and I lost contact through the years so I decided to write her a letter after 20 years later figuring that she was still alive but I found out different. I am very hurt over this and I have been crying over her for 3 days now. I hope that her and me meet one day in heaven but I just want to say to you Shelley, I love you so much and miss you lots. I regret not seeing you after high school so please watch over me and I hope that we meet in heaven. Love and Kisses, Mark!
"
Oh, and need I mention. . .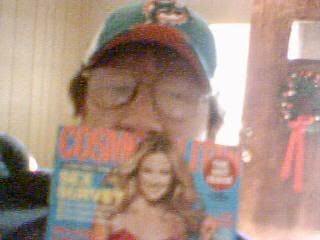 Caption: "Is this the worman's bible in my hands? Tell me now!"
Yes, Bloody Nights. The magazine that teaches women how to give better blowjobs is also where they garner their religion. Good call!
Now last, but not least, I would like to leave you with his favorite movies. . .
"
Jack Frost, Friday the 13th, Nightmare on Elm Street, Witchhouse, Up Against Amanda, The StepDaughter, Big, White Boys, Dukes of Hazzard Reunion, Grease, When Harry Met Sally, Pure Country, Soroity House Massacre, The Shining, Steven King,
Lifetime Movies,
What a Girl Wants,
Sometimes i watch Porn, but to sum it all up i mostly like horror (The Gorrier the better for me)! I always cheer the killer on all the time while watching a horror movie!
"
Lifetime movies? Pretty damn creepy flicks if I do say so myself.
Sometimes some porn? Maybe not weird, but pretty damn weird to share on a public profile. Wonder if his boss has seen that?
Mostly horror flicks, and always cheering for the killer? FUCKING CREEPY.
Happy Halloween!