"Hey
Rockin Ron
! What are you up to?"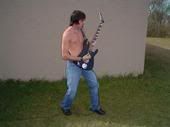 "Nothing much. Just rocking out in my backyard! \m/ "
His Myspace headline is, "If I had one wish , you know , what that wish would be," and he is right, I do know what that wish would be: for a backyard amplifier for that sweet backyard guitar he is clearly playing.
I don't think it is enough to just look at this picture. You really have to think about it. Rockin Ron and a friend, we'll call his friend Photographin Pete, got together one day (drinking Miller High Life) and decided that Rockin Ron needed and appropriately rockin photo. Here is a re-enactment:
Photographin Pete- Hey Rockin Ron, man, you need a new myspace picture. The one of you playing guitar indoors is boring.
Rockin Ron- Yeah, you're right Photographin Pete. What can we do to show how Rockin I am?
PP- Take off your shirt.
RR- AND DO IT IN THE BACKYARD?
PP- Hell yeah, man. HELL YEAH!
And so, the above photo was birthed.
Reading his about me section, I got some seriously sage words of advice:
"
If it Rocks = IT ROCKS !!!"
If it rocks equals IT ROCKS!!!.

This makes me wonder, if I were to ask him what he thinks of the first Black Label Society album, would he say "IT ROCKS!!!" or would he say, "If it rocks" ?

I am pretty disappointed this guy has his photos as private. I bet he has some real gems.
I am also pretty worried I may have some serious competition on the blogging world when it comes to this guy. . . if people start reading his blog, they may lose interest in mine. Here is a sample entry:

Title: Oh ,,, that hurt !!!
Entry: I accidentally bumped my windshield with my guitar case. I didn't even hit it hard. Kinda like, a tap. However that "tap" busted the glass. And that's not cool.
You're right Ron, that is not cool at all.
And finally, some of his general interests:
"Listening to loud music , playing guitar 2 loud , and Ford Mustangs!!!"