You get
JC Fitness HQ
, aka Juliana Nápoles Comprindo.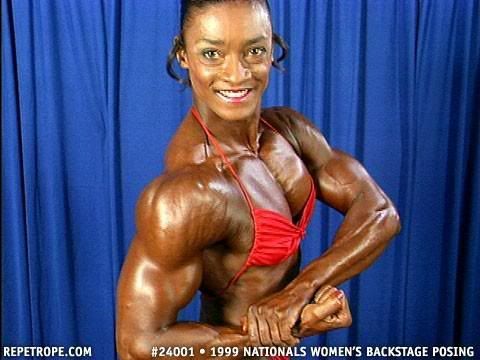 Juliana is a highly accomplished athlete. I am not going to rattle everything off, but I will touch on some highlights: She has been on TV (American Gladiators), won competitions, was drafted to play professional sports, is a personal trainer, has a fully equipped gym and she tours "different art gallery showings" and displays her work in "special events."
You know, normal stuff. She 'roids the f out, pumps some iron, and then she paints pictures. She must be one hell of an artist, too. Check out this flyer she has:
Damn, I'm gonna have to search for her work on Ebay.
And, check this photo out: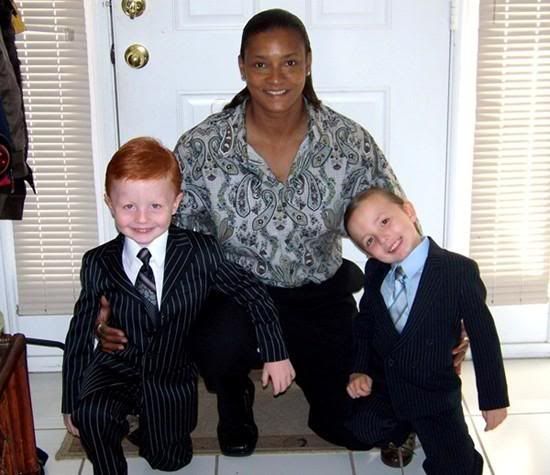 I am going to go out on a limb, and assume those aren't her kids. So, what the hell is going on here? Do parents hire her out, kind of like Chris Farley's Sat Night Live character (the guy who lived in the van) to scare kids straight?
Hypothetical recap of the events leading up to the above photo:
Mom: Ok boys, remember I told you a special friend was coming by today?
Boy 1 and Boy 2: Yes, mom.
Mom: Well, this is JC.
Boy 1: Hello, sir.
JC: What, boy? I ain't no sir, I'm a mama. I'm a hot mama. And I pity the fool who calls me sir.
Boy 1: Cries.
Boy 2: Mommy why does she look like a man?
Mom: Err. . .
JC: Listen you son of a bitch. . .
Mom: Um. . .
JC: Yo mama told me you ain't been eatin' your vegetables. Don't you wanna grow up to be big and strong like JC?
Boy 2: Why do you talk like Mr T?
JC: Mr T is my son, motherfucker. And
Kimbo
is my grandson. Figure that shit out.
Boy 2: I love Kimbo!
JC: He's a son of a bitch.
Boy 2: But. . .
Seriously, though. Would ANYone you know go to this woman to learn how to work out?
Step 1: Take hormones and/or steroids.
Step 2: Pump some serious iron.
Step 3: Hopefully she doesn't roid-rage on your ass.
I mean, I think her methods are pretty obvious, and not entirely elusive to anyone willing to take the risks associated with steroid use, one I found on the internet: "a very common side effect related to steroids is gynecomastia, better known as 'bitch tits.'"
Oh, btw. . . if you are looking for some artwork, check it out: